In one of the first articles we talked about Knauf FireWin fire retarding plasters. This time we want to talk more about the benefits and usage of Knauf Sibaterm fireproof plaster, Sibatermgrund and Sibatermfarbe.
Knauf FireWin plasters are specifically designed for passive fire protection and their mechanized application system decreases the amount of work required up to two or three times. The products have wide application possibilities, however, the most suitable Knauf fire protection solutions must be used to achieve the best results.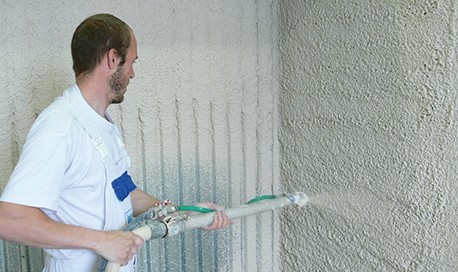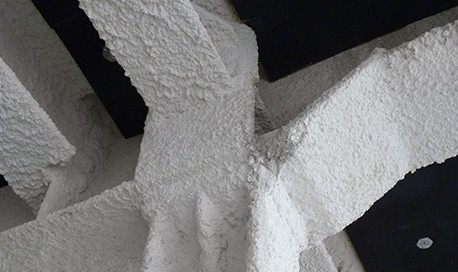 Knauf Sibaterm
This cement based fireproof plaster is suitable for indoor and outdoor applications. Steel supports and beams in unheated production halls and warehouses, in high-rise buildings and office blocks, shopping malls, pools and underground car parks as well as for protecting additional struts when carrying out reconstruction work – these are only a few of the possible areas in which you can enjoy the benefits of Knauf Sibaterm.
The plaster consists of Portland cement as a binder, expanded perlite, glass fibers and chemical admixtures necessary to achieve the required properties. This plaster is specifically developed to provide passive fire protection. Its purpose is to ensure fire protection to structural members that must remain intact until the fire is extinguished or the building is evacuated.
How you benefit:
• Reliable fire safety for 30 to 240 minutes
• Costs cut thanks to little loss when applying
• High level of fire safety for complicated shapes, and for simpler structures
• Excellent adhesion to steel
• Easy to apply with PFT Multimix and PFT Swing plastering machines
• High U/A ratio
• Use outdoors and in rooms with a high air humidity level
• Consistent fire safety throughout the entire utilization period of the building without any repainting
• Costs cut thanks to minimal waste when applying
• Low weight, low consumption and high yield
• CE certification and ETA-16/0858
Knauf Sibatermgrund and Sibatermfarbe
Various primers and paints are integral part of Knauf FireWin systems. Knauf Sibatermgrund is a primer to enhance the adhesion of Knauf Sibaterm Outdoor fireproof plaster to steel structures. It is suitable for both exterior and interior use.
Knauf Sibatermfarbe is the acrylic colour paint for Sibaterm plasters. It is designed for exterior and interior surfaces prepared with Knauf Sibaterm special fireproof plasters. The paint is suitable for both manual and machine application. It makes the substrate visually uniformed and reduces surface absorbency of the substrate.

When safety is your priority you have to choose the right products.
For more information and technical solutions please contact Knauf fire safety specialists. Trust in Knauf FireWin system quality and build with fire protection in mind!